Have you ever tried to shop online for wool and anticipate spending only an hour or so max doing this? Obviously I should have known better as I ended up spending nearly 5 hours on line yesterday afternoon. The final blow came just as I submitted my order to
Kangaroo
.
BAM! I couldn't complete the transaction and process the payment. AAAARRRGGHH.
I had tried to log onto hotmail & ebay earlier in the day but I couldn't. It never occured to me that there was something wrong with the settings on the laptop and it was preventing me from logging onto secure websites. Finally it dawned on me when I tried to submit my wool order - it only took me 1/2 a day to figure this out. Doh!
Never have I been so grateful to see the house PC up and running again (I take back what I said earlier this week). Lady PC allowed me to access the website and I was able to reinput the order. Thankfully everything went smoothly. Now all we need is for the wool to be in stock and promptly delivered, and I shall be one very happy little bunny!
On to the yarn substitutions:- As I am unable to get the CPY yarns specified in the pattern (CPY Taos and CPY Aran), I decided to get some Noro Kureyon to replace the Taos and some Debbie Bliss Merino Aran to replace the CPY Aran. I had wanted to go for a similar colour scheme as CPY's but I had trouble finding similar colours.
So I compromised and chose Noro Kureyon shade 159, and Debbie Bliss Merino Aran in the following shades: (203) Teal, (602) Pink, (506) Forest Green and (600) Pale Pink. I also have about 400yds of Lilac wool and turquoise wool in my stash to balance it out. FYI, the Debbie Bliss Aran was £2.95 but I also got some for £2.25 in the specials.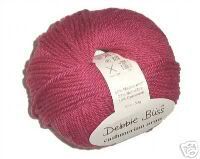 In all I spent £28.40, which for me is a lot of money to spend on one project. But I figure the
English Garden bag
by
Crystal Palace Yarns
is going to be worth it! This bag is intended to be a birthday present for someone but I'm afraid it could be difficult to part with. We'll have to see how it goes....
All being well, I should be the proud owner of my first stash of Noro Kureyon and some Debbie Bliss Merino Aran by Wednesday next week.
PS:
Kangaroo
have free postage for yarn within the UK. Yay me!