It seems my facination with all things Amigurumi has rubbed off on Little Miss CB. She picked up a crochet hook today and made a start on her first crochet round. We're not sure what we're making yet but it could end up being something like
Momo the octopus
by
Roxy Craft
or even her own
Amigurumi Dude
from
Crochet Me
.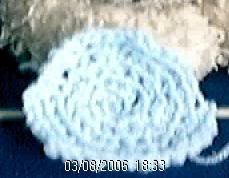 This is not the first time she has crochet but it is the first time she has made her own chain, joined it into a ring and worked ss (slip stitch), sc (Single crochet), dc (double crochet). She's working in ever 'increasing' circles! and appears to be enjoying it.
Over the years she has sat with Nanny, who crochets blankets and throws as quick as you can say boo!, patiently guiding her hand and hook. So she is familiar with crochet but never really did it by herself. I'm so pleased for her.
We've tried knitting together in the past but I really don't think she enjoys it all that much. And we both usually end up screaming at each other - a trait we have no doubt inherited from the matriarchs in our family! Whereas with the crochet, she says she finds it easier to manage. And as Amigurumi are so cool it's a great project for a young girl to work on.
So without further ado, I present Tilly Bear displaying the work of my precious little (almost 9 yr old) monkey. More pictures to follow, Little Miss CB permitting of course.