My ISE III scarf arrived in yesterday's post and here is a link to my
Photobucket
album and more photos of the lovely things I received. In the meantime, here's a few of the pictures of the beautiful scarf that my ISE pal made for me: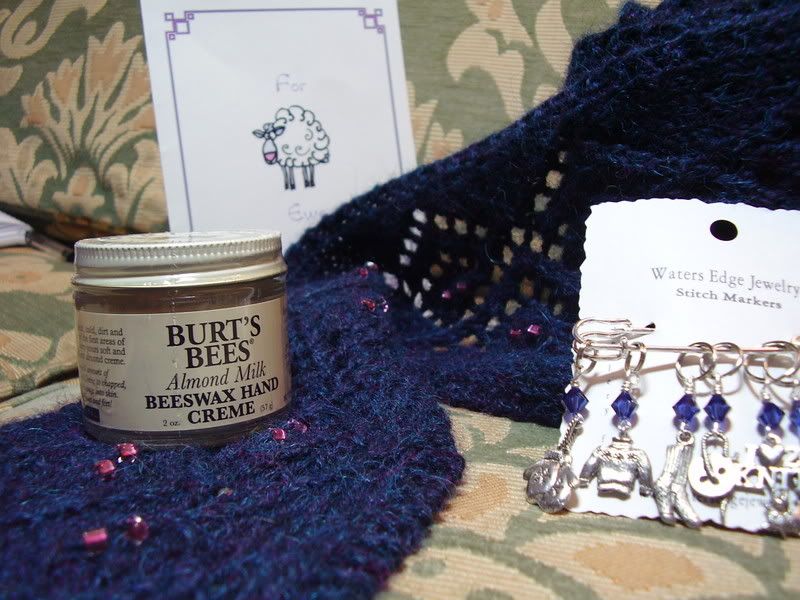 I love love LOVE this scarf. The yarn is Berroco Ultra Alpaca in Blueberry. Did I mention it is beautiful. I've never had anything made from Alpaca before and I was pleasantly surprised at how soft and warm it is.
Jae
created the pattern especially for this and added some beads which pick out the contrasting coloured threads perfectly (Mr Jae chose the beads!)
Jae
, sent me the loveliest stitch markers - my first ones ever. Yay! They have the most adorable little charms on them and there are three different sizes which will come in very useful.
I also received the most delicious Burt's Bees hand creme. I've secretly been coveting these products on line so it was a nice surprise. It smells so beautiful and reminds me of marzipan. I'll just have to be careful not to eat my hands after putting it on. I have dreadfully dry skin and it absorbs wonderfully into the skin. Not greasy at all.
And there you have it. Some lovely gifts from a kind and considerate exchange pal. This has been a fun and enriching experience. I learned many new techniques, met many friends, and had a blast in the process.
Thank you, Jae, once again. And thank you to all the ISE Hostesses. I look forward to the next exchange.
Edited 13.11.06

Here's a link to some more photos on Jae's blog and a link to the pattern, which Jae has named Bernadette.

Toodles!