Katie had a 'Greek Day' at school yesterday where they got the opportunity to taste Greek food, dress up in a toga and participate in a mini olympic games. It's something to do with the Yr5 curriculum me thinks.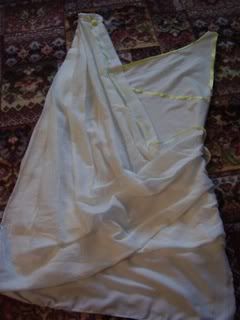 As usual I left making the costume to the last minute. I started on Tuesday night and made very little progress as the sewing machine isn't feeling too clever at the moment. I guess those generic bobbins which apparrently fit 'every sewing machine with a drop in bobbin', don't!!!

It was a very slow and frustrating stop-start process. Needless to say I got ticked off, toodled over to the sofa to put my feet up for 5 mins and promptly dozed off. Next thing I remember it was 5.30am! Thankfully I woke up when I did as I had just enough time. It didn't turn out uexactly as nice as I would have liked but it was fine for the school.

I think a new sewing machine will be on the xmas wish list this year.