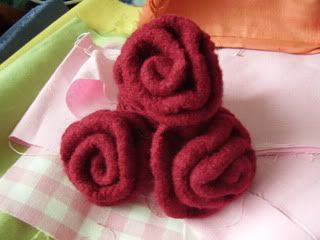 Continuing on from the blue felted flowers I made a couple of weeks ago, here's a few red ones which I think would make great corsages. They would also look nice embellishing a bag so I plan to mount them onto brooch pins.
I haven't embellished them yet as I quite like the woolly look and feel. Perhaps once they've been sitting looking at me for a couple of weeks, they'll tell me what they need! :)
This takes me up to two felted flower patterns - one knit & one crochet. I've been thinking of selling them on somewhere like Etsy, but I'm not sure whether to sell a booklet, each pattern individually, or to simply sell the corsages made up. The patterns would be easier and cheaper to sell/post. Hmmm... What do you think? As usual, your comments and feedback would be really appreciated.
We'll talk more about Craftybernie at Etsy soon....