I've taken to refashioning and reconstructing stuff lately. Someting caught my eye over on craftster and I thought "I could do that". I've got a lot of clothes (that are too small for me) and other goodies lying around that need to be attended to. So the plan of action at the moment is:
1) if it's a WIP (be it knitting, sewing, etc..) either finish it or rip it back & recycle and reuse the materials, OR 2) if it's a FO that's not being used, I'll reconstruct or refashion it into something wearable or an accessory.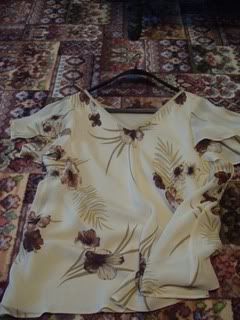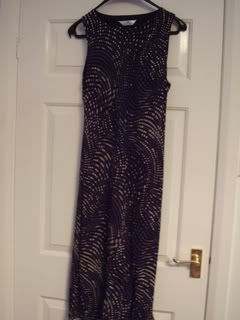 So here are some photos to show you what I've been up to.

1) This cream blouse was refashioned from a well worn dress. I didn't get a photo beforehand but I can tell you that it was the same style as the black and beige polka dot dress pictured left.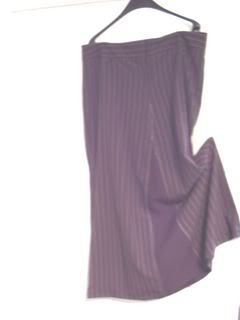 2) This brown and pink pinstripe skirt used to be two pairs of trousers. I inserted a plain brown panel at the center front and back. This was two pairs of poly/cotton trousers made into a skirt. I think some pink lining would go nice (Tee hee hee).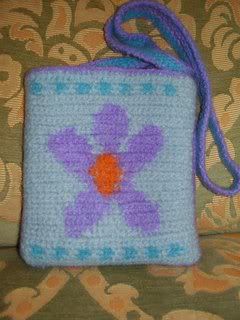 3) The Nintendo DS case (top of post) was reconstructed from a felted bag. Some of you may remember this bag from the Bag Me KAL last September. It was my first attempt at tapestry crochet and I found the flower chart on the internet. The bag has never been used so out came the scissors. The back piece was large enough to fold in half to make a case for he holder. I simply stitched up the sides and inserted a zip on the top.

Keep watching for other felted projects which are in the process of being deconstructed and then morphing into something new and useful. Nothing is safe!!!