It's been a busy few days in Casa Craftybernie. In between sleeping as I get over the dreaded 'lurgy and keeping Katie busy during half-term, I've been slowly working my way through all the recent finished projects and swaps, posting photos of everything that I have received or completed.
About 1/2 an hour ago I finished uploading the
photos
of everything that I received from my amazing ISE5 Angel,
Martha
.


Check out the results of Martha's hard work starting with this beautiful scarf in Rowan Felted Tweed. The scarf pattern is Eugen Buegler's 'Streaming Leaves Lace Scarf'. And it is DIVINE! It's so soft and squishy. Martha was a little concerned about the alpaca guard hairs but it's not a problem - it feels lovely and soft against my skin. Beautiful! I love it.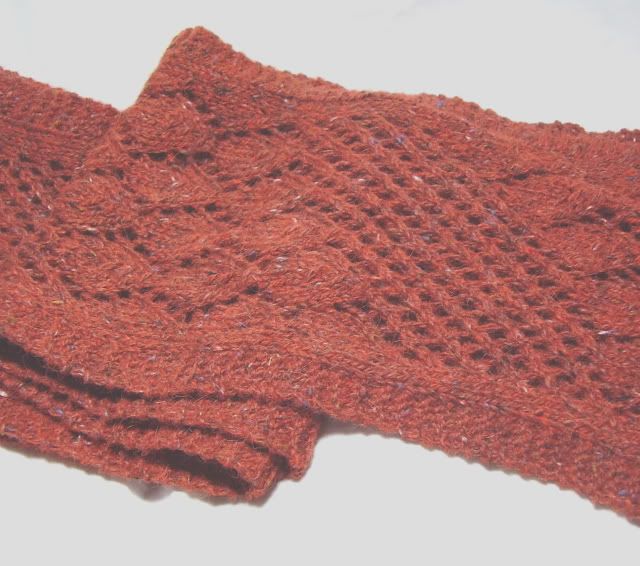 Martha also kindly included a second scarf, Edgar from the fall 2005 issue of Knitty knit in Silk Garden Lite, for Katie. I guess I could have claimed it for myself but I will probably end up borrowing it anyway and this way Katie feels spoiled too! She was seriously stunned that a stranger across the ocean remembered her in this way and she asked me to say that she "absolutely loves the colours and the pattern". Thanks Martha (from Katie!)



Another indication of Martha's thoughtfulness, is the undyed wool and Kool-Aid packages that she enclosed so that Katie and I could dye the wool together. How lovely is that!! Katie was very interested in testing the Kool-Aid for herself when I explained that we would be using it to dye wool and not drinking it! "Imagine what it does to your insides", she said! Kids. Lol.

The box was absolutely stuffed full of thoughtful little extras and I know that Martha & her hubby had a lot of 'fun' squeezing everything in. By no stretch of the imgaination was this a small box. There is enough fiber, yarn, beads and more to keep me going for months of projects!

I put together this little photographic collage of the items that my amazing Angel sent me. Working left to right, starting with the top row we have: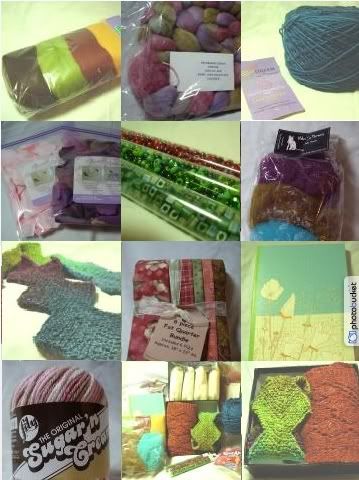 1) Clover Natural Wool Roving
2) Bluefaced Leicester
3) Dream in Colour Sockyarn
4) Precious Petals
5) Tubes of Street Bead Connections
6) Naked Cat Fiberworks
7) Edgar Scarf in Noro Silk Lite
8) Patchwork Fat Quarter Bundle
9) a Beautiful Notebook (has graph & plain paper inside!)
10) Sugar'n'Cream Dishcloth Cotton

There's an element of crafty Kharma that goes with being a swap Angel. Stepping in at the last minute to make and send to somebody across an ocean is a challenge-and-a-half, especially when everybody else has had months to get to know their pal and work on their projects. The kindness of our swap Angels is invaluable. It takes a special person to fulfil their duties in a swap, only to do it over again for a second pal.

Thank you Martha for being a true Angel. xx

About my Scarf Angel: Martha lives in Vancouver Washington, with her husband, 2 dogs, 3 cats and 1 or 2 of her 3 children.