I received a lovely hand knit lacy bookmark from my swap pal,
Terri
. Trying to figure out who sent to me was a bit of a challenge. Until I opened my eyes that is! Lol.
I received the delicate gift, wrapped in pink tissue paper, held closed with a padded fabric dog.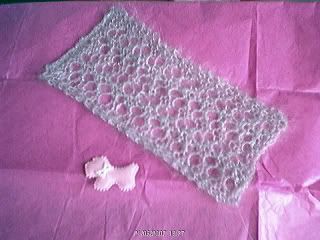 It took me a day to figure out who sent it and it wasn't until I started asking for help on the forum that I realised the dog was a Terrier and therefore my pal must have been Terri! I'm such a dufus!
The really cool thing about my bookmark, is that it makes a lovely wrist cuff and fits me perfectly. A bookmark and accessory in one!
It is knit in Kidsilk Night and is a lovely silvery grey. Terri has also kindly offered me the rest of the ball which is extremely kind. I've never worked with Kidsilk before so it will be fun to try it out.