From this lumpy bumpy scarf to.....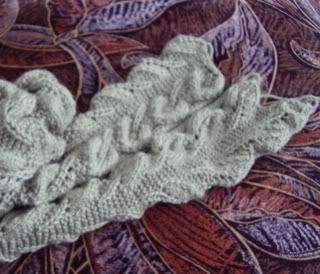 .... this! Here is my completed Backyard Leaves Scarf for my ISE4 pal and I am very pleased with the result. It's very soft and light yet warm and snuggly.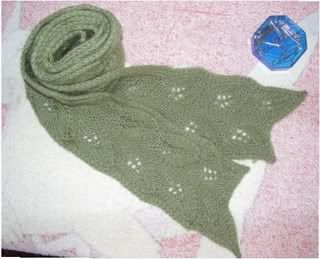 I used the best part of three 50g balls of Jaeger Matchmaker Merino DK, in Shade 857 (some folks have used Jaeger M'maker Merino Aran but I wanted a lighter scarf). The suggested needle size is 4mm but as I knit quite loose I went down to 3.75mm. Also, the pattern calls for 11 repeats but I completed a total of 14 repeats to achieve the desired length.

Check out this sexy little grafted number ...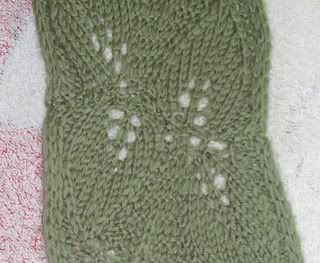 I was really worried that I would end up with a bulky mass at the back of the neck where the two pieces are grafted together. But blocking the scarf made that easier. Once I had stitched the two pieces together, I blocked it again to smooth out the join. I think it looks pretty neat! [insert big cheesy stupid grin]

Grafting the two pieces together seems to be one of the main concerns people had who have knit this scarf. When I was looking for information about it, I was unable to find any photos or reference to how other people managed. So here's mine, in case anybody wants to see it!

Now to get the package in the post tomorrow and job done. I do hope my pal will like it.