Here's the second sock bag/tote which I made using the 'Paris Cats' fabric. The colours are poorly represented here but I can tell you that they are lush - black shoes, accessories (& of course cats) printed onto a cream background, with tones of pink and green in alternating squares.

This is a soft bag and is ideal for tucking away when not in use. It has a rectangular base and can carry a small project. It is fully lined in a coordinating fabric and there are 6 pockets for DPNs, scissors, pens, etc...

BAG FRONT & BASE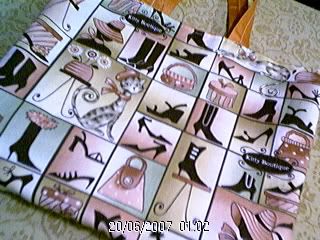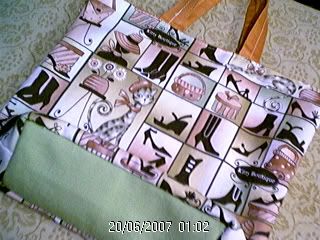 BAG LINING WITH CONTENTS FOR SIZE GUIDE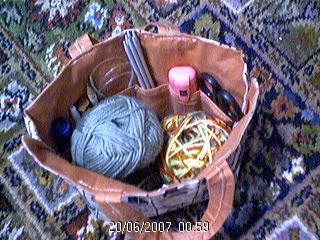 The bag is destined for
Piglottie
, and will be included in a sock yarn auction in August over on the
Crafty Threads 'n Yarns
forum. The auction is part of Piglottie's efforts to raise money for a charity called the
Rainbow Trust
.
The Rainbow Trust Children's Charity provides practical and emotional support to families who have a child with a life threatening or terminal illness.
Enjoy!