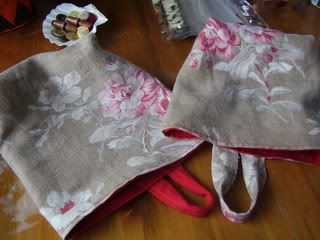 What can you make with the shirt off your husbands back, a dress and an old pair of pink cargo pants?
Handy little pouches and a hobo bag. I kid you not! The fabric used to make these items was recycled from a Laura Ashley dress and a pair of pink trouser type thingies! The red lining in the pouches is from one of Mr CBs shirts (it was never actually on his back, he never wore it at all)!!!
The little pouches are pretty nifty. They are a lovely size for holding small projects or toiletries, makeup, and even a potted plant! I place a small bag of dried lavender from the garden in one and hang it on the desk near the window where I'm working. Ahhhhhhh.....
I also made this hobo bag (top right) using the same floral dress and the pink fabric. I'm very pleased with the lovely 'dusky' shades in these two fabrics. I wish I had more.... :(
The bright tote bag (left) is made from a big piece of fabric I recently purchased off e-bay for a couple of quid. It looks like it might have been a duvet cover in a previous life but I'm not 100% sure.
Anyway, it made a nice roomy tote for Little Miss CB to take on her hols to Spain. I added a lime green panel on either side of the bag and lined it with some bright yellow fabric from my stash (yes I do have a fabric stash!)