I need to knit something pretty! I've been feeling ever so poopy since last night (probably associated with feminine issues, which I mentioned ever so briefly on a previous post - about a
month ago
funnily enough) and need a little pick me up.
Ever since I saw the
Backyard Leaves scarf
(left) by Annie Modesitt, which I am in love with, I've wanted to make something similar. I have some lovely soft mohair/acrylic wool which I am confident will knit into a beautifully soft scarf.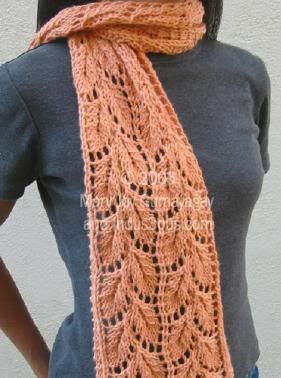 So, having asked for help on the
Knitters Review Forum
,
and after many kind suggestions, I have decided upon the
Liesel scarf
(right). I was having trouble finding a similar pattern to the Backyard Leaves scarf and it hadn't occurred to me that I should have been looking for a 'lace' pattern. Go figure!
Anyway, I've chosen the Liesel scarf as the instructions are for a beginner and you have a choice between a chart and written instructions. I had thought about making
'Alison's scarf'
(left) which is also by Annie Modesitt but I am really struggling with the chart. I don't think I'm quite ready to follow a lace chart just yet.
Back to the Liesel. I'm working on a swatch as we speak, just to get used to the pattern. At least if I find it too difficult, I know before I jump right in to the project.
Want to see what suggestions members of the Knitters Review forum came up with? Here's the
link
.
Enjoy!